Falling for Fall with Fun Festivities!    
Whew! That headline alliteration took a lot more brain power than I thought it would. Moving on.
One of the things we look forward to the most during the Fall are all of the fun things to do in and around Wilmington. Do you feel the same way? Here's a quick list of some local events during the month of October:
1) Annual Wilmington Riverfest. Downtown Wilmington, NC
   Riverfront Park, October 3-5, Admission: Free
   visit http://wilmingtonriverfest.com for more details
2) Family Friendly Farm Days. Legacy Farms in Wallace
   October 4-5, 11, 18 and 25, Admission: $8, featuring corn maze, hay
rides, haunted woods trail, costumed actors
   Visit www.legacyfarmsevents.com for more details
3) Grooves in the Grove. Poplar Grove Plantation
   Every Sunday, at 5:00 pm, through October 26, Admission: Free
Check out WhatsOnWilmington.com for a very comprehensive list of our local happenings!
Andrea
Pumpkin Huntin'?
Are you wondering where you can both find a great selection of pumpkins this year and support a good cause? We recommend a visit to the pumpkin patch at Wesley Memorial, on the corner of South College and Peachtree! Proceeds support the Wesley Memorial Youth Ministry.
You can swing by the church and browse their huge selection after you drop off your October rent at our office on Treadwell Street. Three birds, one stone. Look at you, you efficiency rockstar!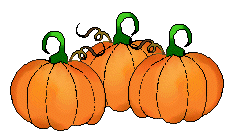 Notes from Dianne:
"We're proud to report some of the highest tenant ratings in local reviews,that 97% of our properties are rented for 2014, we have a 98% occupancy rate and only 2% of our properties were vacant for over 30 days.
Great job team!"
Dianne
Get ready for cooler temps!
Fall is officially here and we can't wait to wear our cozy sweaters, consume pumpkin spice everything. Aren't the chilly weather, hay rides and colorful leaves so fun?
At home, take a moment to turn your heating system on to make sure it's working well. While you're at it, it's a great time to replace the air filters and smoke alarm batteries, and check the thermostat batteries, too! Take a look outside, and make sure that debris is cleared away from the condenser.
A little bit of effort now will help to prevent frostbitten toes later.
If you notice a problem with the heat, give us a call. We're here to help!