The Kentucky Derby is almost here so pass the mint juleps, y'all!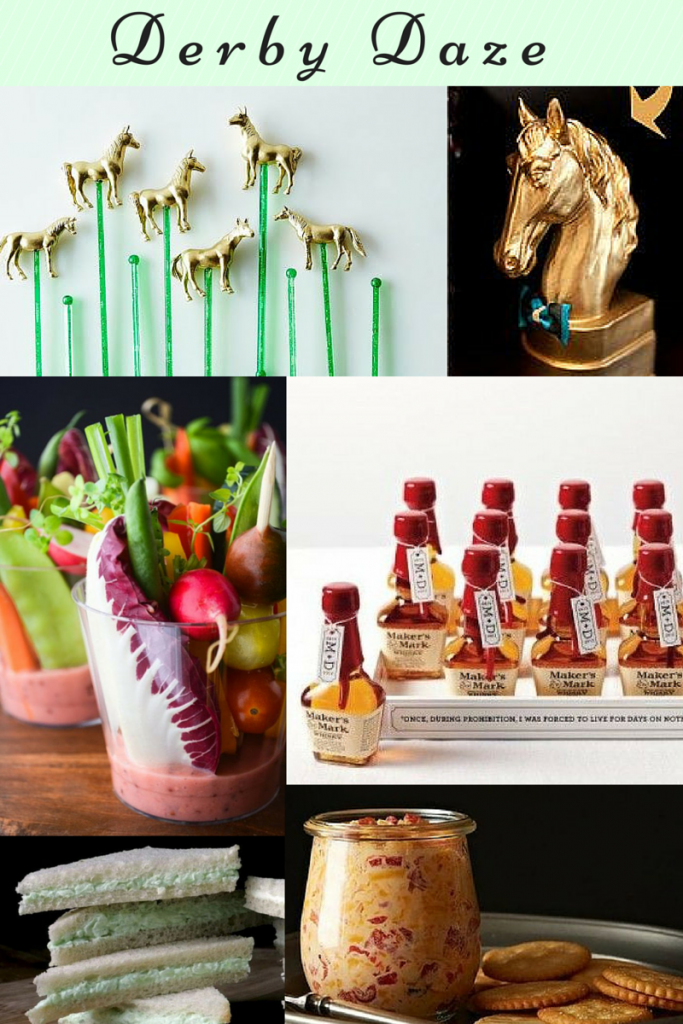 (Images from top: horse drink stirrers, golden horse DIY, individual salad cups, mini bourbon set up, benedictine sandwiches, pimento cheese).
I grew up not knowing very much about the Kentucky Derby. I knew what horse races were, but the big hats, seersucker suits, and the sophisticated parties were lost on me. It wasn't until a coworker told me that she attended Kentucky Derby parties hosted by Garden and Gun that I truly started to grasp the Derby Culture.
"Garden and Gun, that's a real magazine?" I asked her. (I did not grow up in the South and thought she may have been pulling my leg. She wasn't.)
I was then presented with photos of Garden and Gun's Derby Party which included pristine mint juleps, ladies in big hats and pastel summer dresses, and men whose attire looked like they just came from a quick game of croquet in a J.Crew store. It looked perhaps a little extravagant, but it also seemed like a fun way to spend an afternoon: drinking bourbon, mingling with friends, and watching races.
While I never went to a Garden and Gun Derby party or any similar event, I do now watch the derby and take advantage of the mint julep specials. This year, I'll be hosting a small derby get together with some friends, so I'm sharing some easy ideas for a Kentucky Derby party below! And, if you're really getting into the Derby celebrations, you can find the official Kentucky Derby Party Planning guide here or see our Wilmington Weekend Guide for Derby events and parties around town.
Easy Kentucky Derby Party Ideas:
Fun straws and swizzles.
Make your cocktail extra glam with decorative straws or swizzle sticks, like the colorful horse ones above.
A build your own julep bar.
Set up a build your own julep bar for guests with mini bottles of bourbon, superfine sugar, crushed ice, and fresh mint. You could also up the cute factor by framing a copy of the mint julep recipe by the bar area.
 Serve some classic hors-d'oeuvres.
Serve up some Derby classics like pimento cheese and finger sandwiches. We also love the idea of fresh spring vegetables and dip served in a small clear cup!
DIY some winning prizes.
Use old horse toys sprayed with gold spray paint to create a prize for guests who correctly predict the winners. You could also create winning bows with old ribbon.
Wear your best hat or dapper look.
Half the fun of Derby parties is dressing up, but you don't have to shell out big bucks to look the part. Grab a big hat and decorate it as you like, or simply throw on your favorite suit and break out a fun pocket square.
How do you celebrate the Kentucky Derby? Share with us on Facebook or Twitter!