It's National Clams on the Half Shell Day and with random national days gaining popularity over the last few years, we're not surprised this exists. Although we did have an office debate over clams, particularly raw clams. Some of us appreciate them, others will only enjoy them cooked. However, we are all in agreement that Wilmington has some great spots for seafood, raw and cooked alike. Check out some of our favorite spots to enjoy a fresh catch below!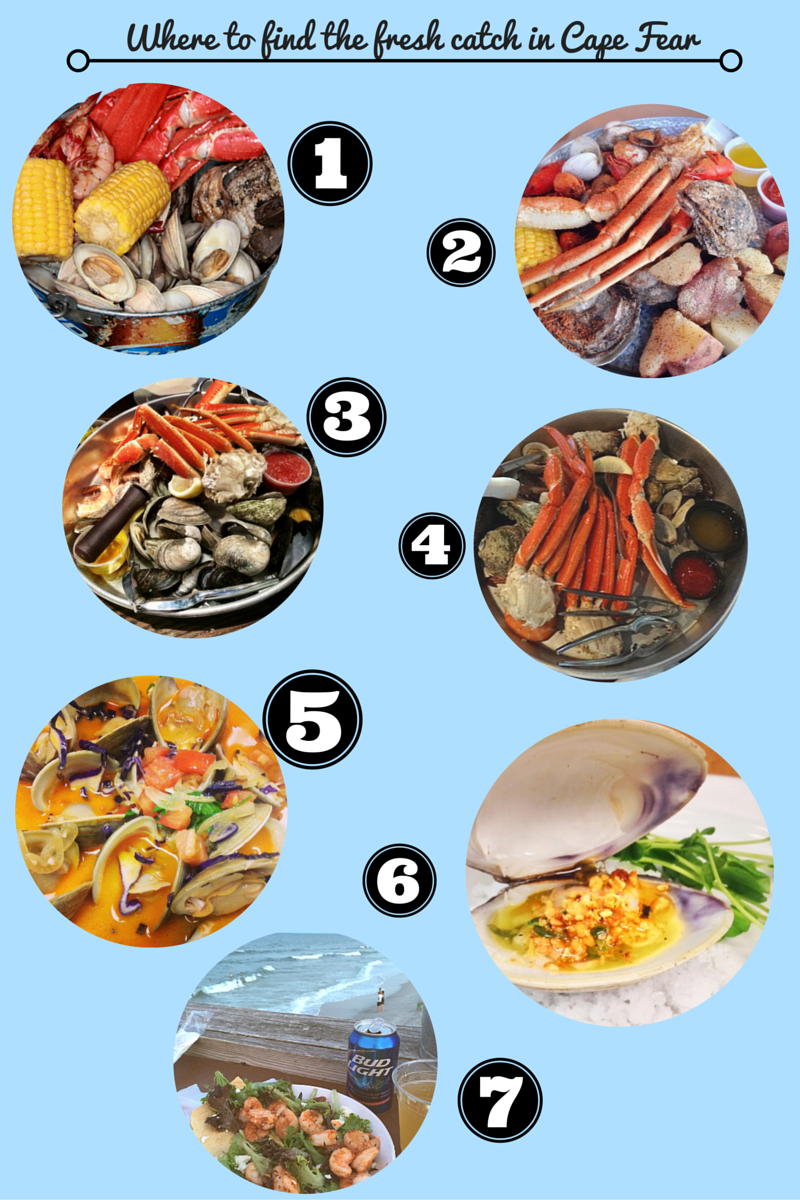 1. Shuckin' Shack
When you need a bucket or basket of seafood, Shuckin Shack is the place to go to. They offer a variety of steamed and raw plates, along with sandwiches and traditional seafood fare.
Various locations in the Port City area. Find the closest shack here.
Check out their website here.
2. Dock Street Oyster Bar
Dock Street may be closer to the river, but the restaurant provides a beachy ambiance that compliments their raw bar and steamed offerings. It's a great little place to stop after a day of shopping downtown.
12 Dock St, Wilmington, NC 28401
(910) 762-2827   Website
3. Fish Bites Sea Food
Fish Bites is a casual yet cute restaurant in Carolina Beach, cozied up against a retail fish market (yes, there's a lobster tank). Their menu is a seafood lover's dream with its vast offerings from raw bar classics to fresh entrees and pasta dishes.
6132-11 Carolina Beach Rd, Wilmington, NC 28412
(910) 791-1117  Website
4. Cape Fear Seafood Company
Cape Fear Seafood Company was one of the first seafood places recommended to us and it is easy to see why. With a great atmosphere (perfect for date nights!), attentive staff, and great dishes and cocktails, Cape Fear Seafood Company is always a great choice.
5226 S College Rd #5, Wilmington, NC 28412
(910) 799-7077    Website
5. Catch
Talk to any Wilmington local and they'll likely hold Catch in high regards. With fun takes on the classics and dishes as delicious as they are colorful, Catch is a spot that never gets old. You can keep an eye out for Catch the food truck, or find their restaurant on Market Street with a tongue in cheek sign letting you know that, "Yes you are at the right place."
6623 Market St, Wilmington, NC 28405
(910) 799-3847   Website
6. Surf House
Look no further than Surf House for sustainable seafood and farm-to-table fare served in a modern and fun location. Their dishes and cocktails are just as delicious as they are visually stunning.
604 N Lake Park Blvd, Carolina Beach, NC 28428
(910) 707-0422   Website
7. Ocean Grill & Tiki Bar
What's better than enjoying dinner with an ocean view? Not much, if you ask us. And at Ocean Grill, their seafood dishes and cocktails will impress you just as much as the view does. (Pass me a Mai Tai).
1211 South Lake Park Boulevard Carolina Beach, NC 28428
910-458-2000  Website
Did we miss your favorite seafood spot? Share with us on Facebook, Twitter, or Instagram with the hashtag #DiannePerryCo!